CHFA Has Clients Covered for Quality Architectural Ironmongery Stainless Steel Products
---
■Luo Shu-hua
CHFA Corporation was founded in 1987 as a manufacturer that grew to become the top Specialist in offering architectural ironmongery Stainless steel products. At present, the firm Oversees 100% of the export operations for is OEM and ODM, ISO-certified products.
The hollow stainless steel lever handle in grade 304 and solid lever handle in grade 316 represent CHFA's core values in designing products for architectural & ironmongery.
To expand their products' reach and meet market demands, CHFA also produces other finished items in the lever handle, pull handle and mortise locks categories. CHFA aims to continue to develop and launch nmew models for each quarter thanks to their hard-working R&D department. More importantly, CHFA delivers: the fim maintains a good relationship with its suppliers by ensuring on-time delivery ofits products.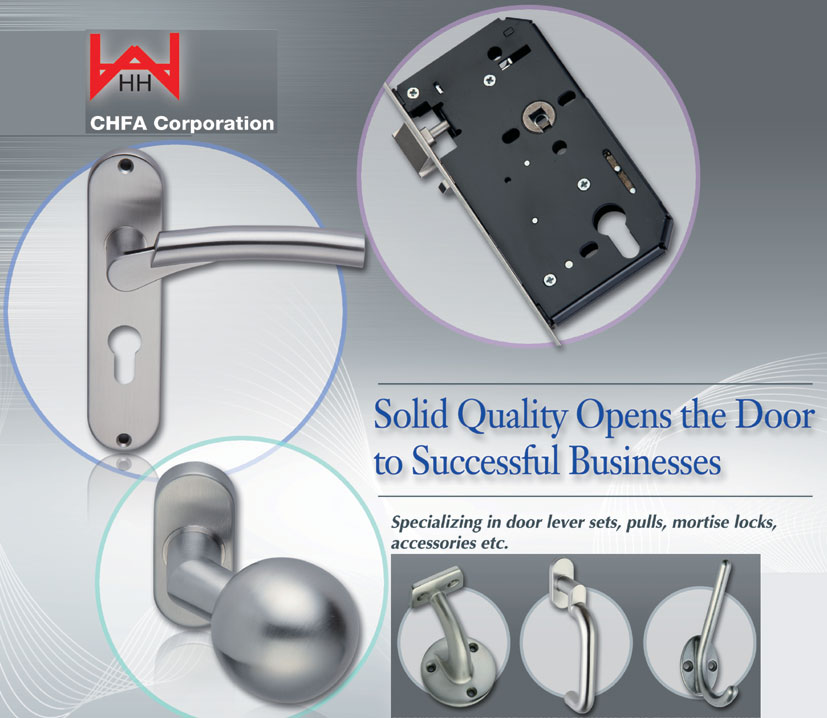 CHFA is committed to customer satisfaction and Ioyalty, and also invites the customer to choose them to do business as they aim to develop their marketing goals in Europe and America. The fim also welcomes customers to visit their factory for a better understanding Of CHFA's dedication to offering the best of the best. For more information, please contact them by E-mail at cfcorp@ms67.hinet.net or via their website at www.chfa-hardware.com.